Aprotec DMS Features
DMS Document Creation
Aprotec DMS™ provides a document creation wizard which guides the user through the important stages of creating a new document. This ensures that all documents are created to the company standard and that the correct details are always captured.
Use of company standard templates
Input of important data card field entries
Allocation of a unique Document Number
Applying the appropriate revision scheme
Specifying an appropriate document storage location
Applying the appropriate document security
At Aprotec we feel very strongly about the management of the document creation process. Without this control the document library will inevitably be full of errors making searching extremely unreliable and the quality and consistency of company documentation will be almost impossible to maintain. We at Aprotec have seen many Document Management systems both past and present, that surprisingly appear to ignore this crucial aspect of document control.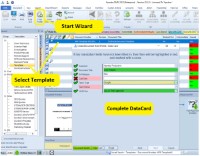 Aprotec DMS
Learn more about Aprotec's latest flagship product for complete document management support. [more]
Downloads

A number of useful documents are available for download in PDF format. [more]
Industries
For over 30 years Aprotec has provided document management solutions across a variety of industries. [more]
Remote Connectivity
Boost your productivity on the go, leverage the power of your DMS outside your walls to remote offices, remote workers and home workers. [more]