Aprotec DMS Features
DMS Retrieving Documents
The key to success for any Document Management System is the quality of the data within it, together with the quality and performance of the searching features.
Aprotec DMS offers powerful searching tools, whether it is a simple one off search or a more detailed query which may be saved and used on a regular basis.

The Quick Search feature allows the user to enter a 'Key Word' which will then display any document which features that word within it's index record. This can often be the quickest and most effective way of finding that crucial document.

Powerful and convenient "Quick Search" function to find documents related by a key word.
Group "Saved Searches" for regular " Quick Fire" use.
Detailed Searches to quickly locate a specific document using key information and search logic.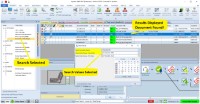 Aprotec DMS
Learn more about Aprotec's latest flagship product for complete document management support. [more]
Downloads

A number of useful documents are available for download in PDF format. [more]
Industries
For over 30 years Aprotec has provided document management solutions across a variety of industries. [more]
Remote Connectivity
Boost your productivity on the go, leverage the power of your DMS outside your walls to remote offices, remote workers and home workers. [more]