Aprotec DMS Features
DMS Integrated Document Distribution & Transmittal Management
Companies often have a requirement to generate formal document transmittals, which is a time consuming task and prone to human errors leading to costly document mix-ups.
Aprotec DMS takes all the hard work out of the transmittal process by almost completely automating the task. Transmittals are generated from templates taking all the relevant data directly from the document records and a recipient database. As part of the transmittal generation process, documents can be automatically converted to PDF format for transmission.

A simple wizard guides the user through the transmittal generation process, dramatically reducing the time taken and eliminating errors often so inherent with the manual process.

This feature provides an effective productivity/workflow boost whilst also helping to maintain and control company quality standards and procedures.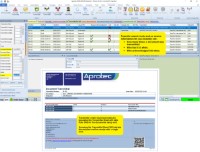 Aprotec DMS
Learn more about Aprotec's latest flagship product for complete document management support. [more]
Downloads

A number of useful documents are available for download in PDF format. [more]
Industries
For over 30 years Aprotec has provided document management solutions across a variety of industries. [more]
Remote Connectivity
Boost your productivity on the go, leverage the power of your DMS outside your walls to remote offices, remote workers and home workers. [more]