Aprotec DMS Features
DMS Integrated Document Workflow Management
Document Process Workflow is a key factor for many Companies whom operate formal document workflow schemes.
Aprotec DMS provides a powerful graphical Workflow Module facilitating and accommodating the most elaborate client customised workflow schemes without the need to resort to bespoke programming.
Am extensive suite of workflow tools and technology provide the power to take on the most arduous workflow tasks. Full system messaging, notification and monitoring systems provide the power and flexibility to emulate real life workflows. Tasks can be assigned to specific users in order with fallbacks for busy or absence.
Aprotec Workflows provide improved efficiency, better process control and allow you to focus on streamlining and providing business process improvement.
Workflow is a feature of our Enterprise product range.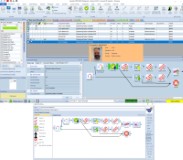 Aprotec DMS
Learn more about Aprotec's latest flagship product for complete document management support. [more]
Downloads

A number of useful documents are available for download in PDF format. [more]
Industries
For over 30 years Aprotec has provided document management solutions across a variety of industries. [more]
Remote Connectivity
Boost your productivity on the go, leverage the power of your DMS outside your walls to remote offices, remote workers and home workers. [more]